Don't you just love long weekends?
Easter just passed, and Victoria Day is coming up quickly. Then summer will give us Canada Day, the Civic Holiday and then Labour Day.
These extended weekends are the perfect time to travel back home (or elsewhere) for a quick visit – and that's usually what I do.
When it comes to going home for holidays and celebrations, the first thing people think of is stress.
Having travelled back home on so many weekends over the past 11 years, I've learned a few tricks on how to keep my stress levels from going through the roof.
Here are 6 of my most relied upon tips for getting through these weekend escapes with ease.
Pack light. 
For the longest time, I majorly overpacked every single time I went back home (or anywhere else). That fear of being away from your things is something we all struggle with, but in recent years I've learned as much as I can about living with less to combat work-from-home stress (clutter stresses me out like nothing else) – and it's especially helpful when it comes to travelling.
If you're going to be travelling via a train, bus, or plane – you really don't want to be hauling around a heavy bag. It'll become a drag real fast, and you'll get to the end of your trip just to realize you never even touched half of what you packed. Take the time to plan out your outfits in advance, and pack only what you know you will actually need and use.
Believe me, you might pack that Henry Miller novel with a serious intent to finish it, but the weekend will come and go so fast you won't end up touching it.
I only learned how to implement this idea once I started travelling on planes – checking bags is not only a mega time waster, but who actually trusts these guys not to lose your bag? I can always fit everything I need into a carry-on now, even if it's for a longer trip.
Do your research. 
If you're going somewhere new, winging it sounds really fun and exciting (and it certainly can be) but a weekend is only a short time to see a new city – so the more itinerary you have, the more you'll be able to actually do and see – and the less time you'll spend looking for a wi-fi connection and googling the city.
 Book everything far in advance. 
This tip gets ruled out for fun, spontaneous, last minute travel – obviously, but for holidays – you know when they're coming, and you know when you will be expected home at the dinner table.
That means you have plenty of time to book ahead.
If you're flying, give yourself a 45 days ahead rule so you know you'll get the best deal.
If you're taking the bus, Megabus has insanely cheap deals if you book far enough in advance (but they're not refundable, FYI).
If you're opting to rent a vehicle, get in there before all the nice Honda cars are taken and you're stuck with a junky gas guzzler.
I opted for the Honda Fit over Easter, and as I've come to expect, it was reliable, safe, pretty and gave amazing gas mileage. It's the perfect road trip car if you're not travelling with a big group (and it's the most affordable new car you buy from Honda, which is awesome, too.)
Remember, prices for everything get hiked up for long weekends/holidays, so the earlier you get in there, the less painful it will be on your wallet.
Also, once you have everything booked, you can count half the stress of such trips washed away. Just like that, all you'll have to worry about is making small talk with awkward relatives you only see on holidays… and if your mom will be in a good mood this time.
There's an app for that.
Yes, I'm as app obsessed as everyone else. If you really want to streamline travel plans and easily share them with your travelling companion, apps like PlanApple, TripIt and TouristEye will keep your itinerary in your hands (via your smartphone).
Don't travel too far. 
The key thing about weekend travel is you only have a weekend. Yes, it's a long weekend, but that only affords you an extra 24 hours before you have to be back at your desk making magic happen. Spending most of that free time on the road (or in the air) is just stupid. Save the trips outside the 3-hour drive or 1-hour plane ride for your next full week off.
Be a tourist in your town. 
Since most of my long weekends trips have been spent visiting my family 2 hours south of Toronto, the only way to keep it interesting is to try and do or see something I might have ignored growing up.
You know those people who grew up in Toronto and still have never been to the top of the CN Tower? Having grown up just outside Niagara Falls – I mostly avoided it knowing it as the tourist trap it can be. But in recent years I've had fun visiting the city and embracing my inner tourist. There's something absolutely amazing about walking down Clifton Hill and seeing the Falls start to emerge, riding the Skywheel at night, climbing down the Gorge with my family for the first time, or going for an aimless drive in the country backroads (because I certainly don't get to do these things in Toronto).
We always take home for granted, but sometimes it's the best place to explore.
Bonus: Leave early. 
There is nothing like the hell of being stuck in long weekend bumper to bumper traffic on the Gardiner. Or heading to the bus station trying to make a certain bus only to have to wait in line for an hour to get your ticket because of how packed it is, and missing it. Beat the rush if you can. Ask to leave work a few hours early, pack the night before, and get out before everyone else hits the road.
If most of the stress comes from dealing with family and getting everything booked, the rest comes from road rage. Avoiding it is the best policy.
While I didn't travel so far this year that I needed to board a plane, I still managed to get my wanderlust fix in by taking a bunch of road trips across Ontario.
There is really nothing I love more than a good road trip. My favourite people, my favourite music, some snacks and a good vehicle are all that is required for a memorable mini-vacation on a whim. Thanks to Honda, I was able to try a handful of different cars for weekend getaways throughout 2014, and I'd love to take you through the ones I found particularly great for road tripping.
HONDA ACCORD – BEST FOR WINE COUNTRY
As seen above with my man, the Accord is the perfect practical car. I had the chance to test it out in Niagara, and you can read more about that trip and how much I loved the car over on Dose.
ACURA MDX – BEST FOR MUSIC FESTIVAL CAMPING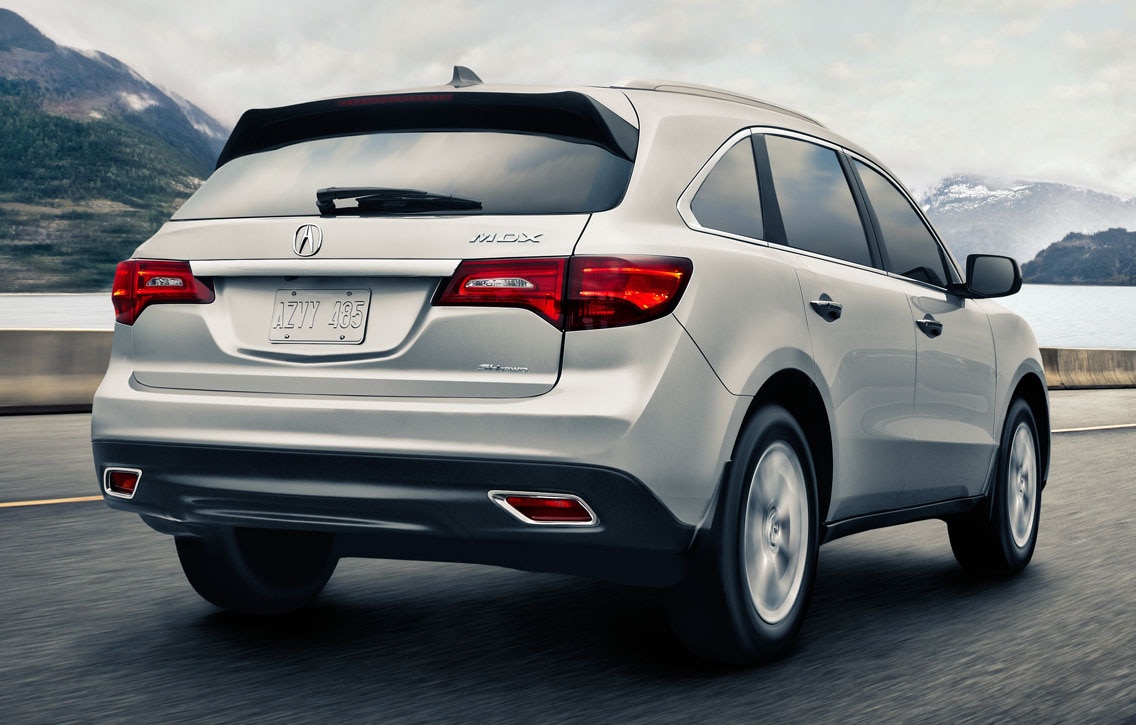 While I didn't use the Acura for a Bonnaroo trip, I couldn't help but think that it would be absolutely perfect for that situation when I was testing it out. Back when my friends and I drove down to Tennessee for the festival, we were in a small economy rental – and with all our stuff packed in – it  was not particularly comfortable. Not to mention that the heat in Tennessee in June is unbearable, so sitting in the vehicle for shade/sleep (since the tent was unbearably hot) was something we all needed to take turns doing.
The Acura is an incredible vehicle for a variety of reasons, but its spaciousness would definitely come in handy in such a situation. You can take the seats down for extra room should you need to sleep in it. Plus, the dvd player setup in the back will keep your friends entertained over the very long drive, and the navigation system will make sure you don't get lost trying to find the farm. And the surround sound audio and SiriusXM mean you'll be able to sing your heart out the whole drive down.
HONDA CIVIC – BEST FOR A BEACH TRIP

I was able to test out the Civic on my way to go parasailing for the first time in Grand Bend. This short trip might be the highlight of my travels in 2014 because not only had I never parasailed before, but I had never been to the adorable beach town that is Grand Bend before. Parasailing is unlike anything I've ever experienced. Ziplining in Victoria is probably the only thing I can compare it to. But somehow parasailing was scarier, even though it only lasted about five minutes. I probably shouldn't have googled parasailing accidents before I went – but knowing something has a risk is half the fun of doing it, right? It was truly one of the most spectacular views I've ever witnessed in my life. I wish Grand Bend was closer, as I would be there every weekend in the summer if I could.
The Civic might be my favourite car of them all. If I was going to buy a car today, I'd probably be going with a Honda Civic. It is beautifully made, gorgeous to look at, great on gas, and has all the incredible features I've come to expect from Honda – push start, rear camera, voice navigation, incredible audio, lane watch, and I don't even have to fish through my purse to find the keys – it detects them and unlocks automatically when I approach.
I love this car.
HONDA FIT – BEST FOR ADVENTURES
I had a chance to try out the Fit while participating in my first drumming lesson. Yes, I finally fulfilled my childhood dream of learning to drum! Well, maybe not fulfilled, but I almost learned how to play Sweet Home Alabama well enough that I wasn't completely ruining the song. See me awkwardly taking my first few hits in the video above!
The Fit is cool for a a few reasons – one being it's price point is super reasonable for a new car. Another being that you can literally fit almost anything in it, despite it being a small car. As you saw, we were able to fit a bass drum in it – which I wasn't even expecting would actually work. You can use it as a 4 seat when you want to grab your friends for an impromptu trip to Montreal, or as a 2 seater when you want to pack your life in the car and see where the road takes you.
ACCORD HYBRID – BEST FOR EVERYDAY USE

The Accord Hybrid has everything I already loved about the Accord, but is also extremely efficient on gas – I spent a total of $30 over 4 days of heavy highway driving, compared to the $60 to $80+ I would usually spend on much less driving.
If everyone that drives would be able to switch to a Hybrid, the world would be a cleaner place, and people would suffer less rage from exorbitant gas prices. The only thing better than a Hybrid is the electric car – and I hear Honda is working on some models as we speak.
I can't wait.
—
On another note, Honda is doing something truly important this holiday season. Help them donate $20,000 to the Make-A-Wish Foundation by donating. For every dollar you contribute – they contribute another dollar. It's the time of year to give, and this is a great way to make your contribution go twice as far.
No, I'm not talking about the Cash Cab – this campaign from Air Transat was even better.
A few weeks back, you may have noticed a baby blue 50's Cuban style taxi roaming the streets of Toronto.
Those who were brave enough to flag it and go for a ride were rewarded with something I am currently dreaming of – an all inclusive Cuban vacation.
Torontonians aren't known for trying something if it looks out of place, so kudos to those who were brave enough (or in enough of a rush) to go for it. We are all collectively jealous of you and your trip to warmer weather.
As important as travel is to me, I have not yet been to Cuba. It is definitely on my bucket list – and considering how inexpensive it is to go there for an all inclusive week – I am hoping to make that dream come true before winter is over. There is nothing I'm wishing for more as I look outside at the snow falling than a warm beach. I've cooped myself up in my house for a couple days now, and am terrified of stepping outside into this minus 3 weather we're already having. Winter and I have never been friends, and it looks like this is gonna be another long, frozen winter.
Book your Cuba vacation here with Air Transat today and then rub it in everyone's face with a bunch of selfies on the beach. If I can save up some pennies over the holidays, I'm definitely escaping to Cuba at some point this winter.
The best part of this whole campaign is that they filmed it and made this hilarious video of the surprised patrons. Here's hoping @AirTransat brings more of these fun, interactive campaigns to Toronto!

#cubantaxi #experiencetransat
But seriously, this guy rules. Just another verification that Iceland is one of the best places on the planet. One day I will get there!
How is Toronto stuck with Rob Ford – the butt of every joke for comedians around the world – when other cool cities get someone this amazing? If by some dreadful twist of events, Robby wins another term, I might have to move to Reykjavik. Amazing music, scenic city, cool mayor. What more could you ask for? Sadly he is leaving office in the spring, but I have a feeling his replacement will be just as awesome.
Thanks to the lovely people at Matchstick and my favourite brand of whisky, Canadian Club, I was flown out to BC in July to shoot a video at Rock The Shores (see it below!). Yes, the wish I wrote on the contact section of my About page, half jokingly stating my dream of being sent around the world to cover music festivals, actually (briefly) came true.
They approached me a month earlier, with an option of going to either BC or PEI for the music festivals happening in these locations, and while I'd never been to either province (most of my travel time has been spent in the States) the lineup at Rock The Shores was stronger, and it's much easier for me to get to PEI than to BC – so it was a fairly obvious choice.
It had literally been over 5 years since I'd last been on a plane, and that last time was my first flight ever, so I was nervous but excited to finally be flying again. If I wasn't saddled with student loans, I would travel constantly. All I remembered about flying was how much I enjoyed being able to see the world from that height – to see the real life version of the map take shape right before my eyes, and see the clouds up close. And that, surprisingly enough, I didn't find it scary at all. This time around, the view was even better because flying into BC is incredibly beautiful – the mountains and the ocean make for a scenic landing.
Unfortunately, it seems my sinuses have become an issue since that last time, because I endured something horribly hellish, called aerosinusitis, when the plane landed. Look it up. I wouldn't wish it on my worst enemy. Luckily it was only so painful that it brought me to tears on the way BACK to Toronto, so my stay in Victoria wasn't ruined. I am slightly terrified of flying again because the pain was so crushing it hurt to even BLINK for a day after landing.
When I arrived in Victoria, we went straight to the Delta Victoria Ocean Pointe Hotel. As you can imagine, it was the nicest hotel I've ever been to in my life. Canadian Club also had a package full of the mixed and ready drinks and beach necessities waiting for us. FYI, you can win one of these Canadian Club beach kits through their Facebook page. Upon arriving we also met fellow blogger Randa, of The Unprecedented. Hanging out with her, along with her friend Jordan, was a true highlight of the entire trip.
To get the chance to stay right on the ocean, and wake up to this sight every morning, is something I'll never forget. I am a water person by nature (water signs ftw) so this is my paradise. I have to thank Tourism Victoria for upgrading me to one of the rooms with a view, and for providing me with attraction passes to experience the city. As we were only there for under 3 days we didn't get to do too much, but the Zipline experience through the mountains and forest was one of the most unforgettable experiences of my life. I almost backed out after the test line, but there was an 8 year old boy doing it fearlessly, so the shame factor was too high. Now I want to try every 'extreme' activity I can. Just like with tattoos, the adrenaline rush is addicting.
Victoria itself feels like a rather small city, but it remains charming and interesting – something small-town Ontario just is not. It is so gorgeous there that you would be foolish to stay inside any more than necessary. It's also the most walkable city I've ever been to. Walking around the harbor is quick and incredibly beautiful – but if you want to take a boat taxi to get somewhere super quick (or just to enjoy a boat for a few minutes) you can do that too for 5$.
The buildings are beautifully designed and carry the charm that comes from being one of the oldest cities in Canada. When comparing to other cities I've been to, it reminded me most of New Orleans in terms of architecture, size, and friendliness of the locals (they are quite different cities in most other ways, though, heh).
I will be quick to note that I think Ontario is a beautiful province. We have all kinds of natural beauty here, including one of the wonders of the world, but BC wins overall, because – look at that park. It was like a mini paradise within the city. Add in the ocean, mountains, and the insane variety of trees – and our lakes and maples just don't quite reach this level.
Now for the reason I was sent there in the first place, to attend their big music festival, Rock The Shores, and finally, FINALLY, see Weezer live.
As someone who's been to festivals in Toronto, Tennessee and Montreal, I was curious to see how they treat media out there. The nice thing about this festival was that they treated media (almost) the same as anyone working the festival + the performers. We got to hang out backstage and drink – which is unlike ANY media experience I've had at any other festival. HUGE points, to say the least. And it wasn't even just shitty beers – they had my beloved Canadian Club Rye & Coke/Gingers, as well as a variety of cider, wine and beers! Um, as someone who's been paying up to ELEVEN dollars to have a drink at a festival (looking at you, Edgefest……) this was joyous.
Sadly though, they didn't treat media so great when it came time to see the actual bands. Having just come from TURF where media were given VIP access and could therefore stay in the pit the entire day to really experience the show, it was fucking shitty to only be allowed in the pit for 3 songs. I know this is industry standard – fair enough – but their rules were very, very unclear and it made the festival look incredibly unprofessional.
Randa had attended the first day (we skipped out to spend a day seeing the city) and she was allowed to sit in the pit divide for the whole show – so we went there expecting that again, but instead when we tried to come back in they sent us out of the entire backstage/pit area and made us walk all the way around the ENTIRE over-packed RTS grounds in order to get backstage again. Sometimes security guards are just bullies. One, upon looking at my Ontario ID, even said "Onterrible." I know Ontario and BC have a NYC/LA style rivalry, but I wasn't expecting that.
So basically we caught the first 3 songs of each band and then had to sit backstage and listen, unable to see anything, if we wanted to keep drinking without waiting in line for hours and paying 11$.
We got there just in time for Awolnation, a band I had been curious about because "Sail" is such a fantastic song, but didn't know what to expect beyond that. It's fair to say I was shocked when a long haired skinny blonde California surfer dude type came out onstage. I was definitely expecting someone more like Cee Lo Green. It's also fair to say "Sail" itself is a misleading song, definitely not representative of the rest of their work. After seeing this show and listening to the album, it stands alone as the only song I care to listen to.
This was also my first time seeing Mother Mother, and while the lead singer's goofy look was enough to turn me off at first, the sheer talent they possess as a group, and the insane love the crowd had for them, easily pulled me in. This is a local band that has had national success, so they go crazy for them out there. Seeing them here in Toronto at Edgefest was disappointing by comparison, not because they weren't giving it their all, but because the crowd was so different/boring.
I've seen Sam Roberts a handful of times now, and he always gives a great, high energy, entertaining show. There's really not much more I can say about him. I think he is a definitive CanRock artist, and it was interesting to see an Aussie we were hanging with watch him perform, because it gave me such a reminder about how specific this sound is to Canadians. It's rare a sound like Sam's will ever break out of Canada, because it is so authentically Canadian.
Last but not least, was the main reason I was excited for this trip. Like probably all of you, I've been a Weezer fan since I was a little kid hearing my friends older brothers obsessively play the Blue Album. Along with Green Day's Dookie, it was my first favourite album. This helps wipe away the shame that, just years later, I became a preteen, and therefore became obsessed with the Backstreet Boys and every other boy band except N'sync. At least I started with relatively good taste, right?
Anyhow, the ongoing joke that Weezer shit the bed after Pinkerton is one I embraced fully, because, give or take an album's worth of songs, it's kinda true. That meant I stopped paying attention to them in high school, and have never made the effort to see them live, for fear of hearing a full set of songs from Raditude or Hurley.  So, when I got this chance to see them, I was happy to embrace the childhood nostalgia and finally see how they are live, headlining a festival. Especially when I heard that they would be playing the Blue Album in full in Toronto the night before. They had to be doing it in Victoria too, right?!
Well, not quite. But, they certainly did play a ton of Blue songs, and surprisingly, Rivers was in a great mood, and it was the perfect way to end the night. At this point we were happy to give up our free drink access to be able to see the entire set.
Finally, the real reason I was there, was to shoot a video of my experience, so check it out!