Tag Archives:
elliott smith
Happy Friday, and Happy Spring everyone!!!! Hope you are as excited as I am that it's FINALLY HERE (even though we might be in for more snow this weekend… …… ugh).
As for fun weekend plans, I will be attending the Prism Prize Music Video Awards on Sunday, so I am saving most of my energy this weekend for that (especially if it snows, as I can't be outside in that shit for much longer without going completely batshit insane).  What fun are you getting into? I have some suggestions as per usual over at Dose! I also heard Foster The People (remember that song about uncool poor kids shooting up cool rich kids at school… ughhh) are playing the Horseshoe tonight, so if you're into that kinda one hit wonder-y mainstream posing as indie band, it's a chance to see one of those "big" bands in a tiny venue – but it's sold out so good luck with that. You're much better off seeing The Dirty Nil at Silver Dollar or The Big Sound at Adelaide Hall tonight.
Now, for the links:
Tracks Of Our Tears: 50 Songs That Make Quietus Writers & Artists Cry Not sure I agree with many of these – if you're gonna list an Elliott Smith song that makes you cry, choosing "A Distorted Reality Is A Necessity To Be Free" is such a weird choice. Like, really, the one song about his general disillusion with the political world (though he definitely never wrote a political song, that song is much more than that – which makes the write up even worse)? Not the one about wanting to die?

Or you know, being

ready to die? Or feeling like a fucking freak in every social situation? Or forgiving his mother for staying with his abusive stepfather, or the shame and anger that stem from getting blackout drunk, or loving the white lady aka heroin more than love

, or you know, almost 

any other song he wrote? WEAK. Sorry, I did name the blog after one of his (not so sad) songs, so I still get very worked up when I read about him and it feels forced, like, "Oh that Elliott guy made sad songs right?" Googles his albums, randomly chooses a song, plucks it into the list. Fuck that. Have some respect.
Iggy Pop, Patti Smith, New Order Storm Carnegie Hall for Tibet See the photo above and video at the end of this post for how fucking awesome this must have been. Jesus, what I would have done to have been there.
10 Essential Canadian Record Reissues Because we really do need to pay more attention to Canada's rich music history.
Music Criticism Has Degenerated Into Lifestyle Reporting Interesting article. Obviously, I combine music and lifestyle in a very overt way with this blog, so I am sitting on the other side of his argument, because I was never trained in music so I can't write about it in these theoretical terms he longs for. I am definitely of the Lester Bangs school in that way, and I don't see it as such a terrible thing. I agree with him that there is a lack of that kind of reporting, but it is because most people are not trained in technical terms, and if you have to use a dictionary to understand an album review you're gonna give up on it fast. But I also agree with him that the musicians deserve to have their music reviewed rather than their failed relationships and publicity stunts.
More Details Revealed in SXSW Tragedy Well this was just awful news.
SXSW Crash Victim Treated to Private Concert in Her Hospital Room This is kinda cute, even if just a huge publicity stunt for the band (I know, I'm so jaded).
Six deaths force Future Music Asia to cancel final day More awful music festival news.
Why Your First Concert Is The Greatest Moment Of Your Adolescence My first concert was a Backstreet Boys concert at the Skydome when I was a tween, so I can't say that was the greatest moment. BUT, my second concert was SARStock which probably was the greatest moment of my teen years.
Neil Young on Pono Raising $1.6 Million in 24 Hrs on Kickstarter: 'There Seems To Be a Market There' Looks like he really was onto something.
The complete guide to listening to music at work Love this. I actually have a very hard time writing while listening to any music with lyrics – unless I'm writing about that particular song – in which case it's required.
How mishearing song lyrics reveals our subconscious thoughts Makes sense, really.
Chordify Automatically Extracts Chords from Your Favorite Songs Pretty cool app for musicians.
How To Accomplish More By Doing Less This is great advice.
The El Mocambo is up for sale at almost $4 million Booourns. Someone save this place before it's turned into another condo. Toronto will always be an amazing place despite the constant gentrification, but haven't we lost enough of our cultural landmarks?
20-something's swap clothes with their grandparents This is my favourite photography project in a very long time. I wish I had a photo like this with my grandma, though she never would have agreed to such a shoot.
Finally, as noted above, here is the video of Patti and Iggy covering my dearly departed Lou Reed! I can't take it! So great: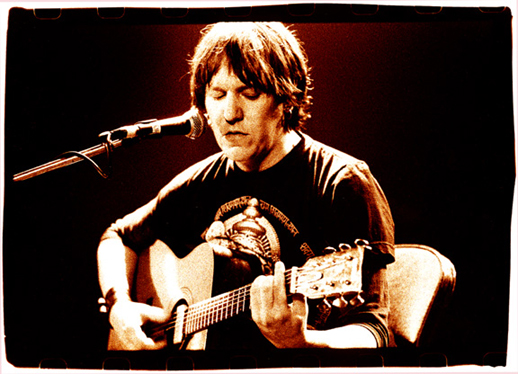 There has been so many Elliott Smith songs leaking this year, I feel spoiled. His music has had such a huge impact on my life since I first heard him in Good Will Hunting all those years ago. I have 'XO' tattooed on me because of him, I named this blog after one of his unreleased songs, and at one point I seriously considered moving to Portland thinking I would fit in better there, so that might tell you a bit about how much his work means to me if you're not already aware.
Please enjoy this download of a song of his that I've never heard before until just now, titled Misery Let Me Down (as far as we know). It is under the first track (Division Day Take 1) about 1.5 mins in, and it's beautiful. It is live and he doesn't play the whole thing (he plays it after asking for a minute to warm up) but it is just as evocative and beautiful as anything he ever wrote.
The download includes the entire WMUC recording session with a lot of stopping and starting and requests on his part. It's very endearing.
Another Friday, another bunch of links to blow your time til you can get out there and drink the night away. By the way, if you're in Toronto you should probably spend your night at The Horseshoe seeing Fast Romantics and Teenage Kicks – they will even have cute tees (yes, by that I mean ones for girl bodies too!) for sale for $10. Also, it's my dad's birthday today – he doesn't read this because he doesn't understand the internet, but happy birthday anyway dad! Love you.
That's it! So what are you up to this weekend? Share some links you found this week with me in the comments, thx.
It's Friday! The weekend is here and I am so looking forward to it. Lots of good shows happening, but mostly I'm just happy to have a weekend off where I'm actually home to do laundry and dishes. My apartment is a disaster area right now. Hope your week was great – but if it wasn't, here is some reading/listening material to distract you.
Hollerado talks about their awesome Meet the Mayor Tour.
Chart is back – we all wondered wtf happened when they abruptly decided to stop, turns out it was just a change of hands, and now things are back on track.
In Defence of Toronto. There was once a time when I thought I was over Toronto and wanted to move to San Francisco or New York, but lately (despite Rob Ford) I love the city more than I ever have before, so it was awesome to read this article on all the reasons there are to love it here, defending it from a New Yorker who lived here for less than a year and wrote an article about how Toronto doesn't measure up.
Zeus is back with their new single from the upcoming album, called "Are You Gonna Waste My Time?" and it rules, so hard. Listen Here
In 24 Days or Less, Apple Will Change Music, Again …
And last but not least, here's the trailer for an awesome doc about media's treatment of women, airing October 20th on OWN, can't wait to see this:
This interview comes to us via my lovely friend Natalie Simons, who was kind enough to take my place at this show when I was dealing with the worst of the cold that's been going around the city.
Quietly prolific and determinedly raw, Emil Amos – singer-songwriter behind Portland's most withheld secret Holy Sons – sits with me on a rainy Wednesday at the Phoenix Concert Theatre, mere moments before his band takes the stage to open for long-time friends Stephen Malkmus and the Jicks.
Those familiar with the early Portland music scene likely remain unsurprised by this musical pairing, as the city is famed for its history of incestuously collaborative musicians. This night, of course, is a delightful display of the tradition, as it is revealed that drummer Jake Morris, Emil and Malkmus have worked together in various avenues for over a decade.
Amos speaks of how they met: "Jake, [Malkmus's] new drummer, played in my other band Grails.  We've been friends for maybe 11 years, when the Portland music scene was super sleepy. Back then, it was kind of a dead period—a rebuilding period—after Elliott Smith left Portland. There were hardly any venues, but we helped open this venue called The Blackbird; [Jake] worked there and I lived with people who did it.
"We met one night when a cop, who was off duty, drove his truck super wasted into the club. We virtually met taking 4x4s up the stairs, patching up the damages."
Though Emil modestly goes on to deem his presence on the tour as a fluke made possible by years of musical collaborations and the, at times, excruciatingly small and familiar waters in which most local music scenes seem to inhabit, he does admit in small part to the fact that his early fanaticism for bands like Pavement and Sebadoh have proven to be a huge influence on his music and the way he performs. "I was a super, super early fan of Pavement. I have memories of when the Trigger Cut 7" came out back in '91 or '92, and I remember being so young and listening to it, picking it apart and thinking about what I really wanted to do with my life. It helped me decide what kind of stuff I wanted to record. So yes, there's definitely a full circle element to that."
Further, the more emotionally dry, erratic, and ultimately vulnerable these indie acts appeared on stage before him in his early years, the more Emil was enthralled. "It trained me," he admits. "So, by the time I started playing shows, I realized 'oh my god, I've become this thing that most people don't even like to watch.'"
Granted, on a grander scale, this statement rings true more often than not; however, Wednesday night, the Phoenix fortunately housed fans of all ages, standing eager to participate in a communal nostalgia for a kind of onstage honesty indicative of the late eighties and early nineties underground.
Once he hits the stage, I soon realize about three songs in that there is little to no difference between Emil's onstage presence and the 30something man who sat in front of me moments before. Both his work and his performance are guided by a desire to be comfortable, raw, uninhibited and accepting of an inevitable criticism that awaits his unwillingness to abide by traditional rules of musical entertainment. "I know a lot of people play music and are excited to be in front of a lot of people, and excited to get a girlfriend or whatever—it's just all never worked for me… Something in my brain won't let me feel like things are working out or that I'm allowed to enjoy it, which I think, is probably connected to my compulsion to just make stuff."
When asked for wacky tour stories thus far, Emil boasts that while he has tons—a quirk of spending so many of his years touring with other Portland-hailed bands such as Grails and Om—they are all hilariously haphazard and ultimately proof that he's never been quite good at taking control and ensuring things go smoothly. "I'm just drunk," he laughs. "It's not my natural habitat… I'm sort of a mess. I'm not like, a typical tour manager kind of guy. I never grew up thinking that I'd be doing this part. I imagined as a kid, like 10 years old, that the world would just let me make music and be like, a weird drugged out dude in my basement."
Amongst a number of stories involving drug-induced forgetfulness and loss of equipment, Emil recalls a particularly favourited tour tale in which he was, rather violently, dragged into a lover's spat. He jokingly insists that it's incredibly complex, requiring at least three hours to unravel all the sub-plots but as his set time approaches, Emil gives me the cliff notes:
"One of my favourite tour stories that I've never told is that I got strangled by the side of the stage once by a girl's boyfriend. I had gotten off stage and was watching my friend's band when he just came up behind me! And I was just laughing the whole time because I thought it was just so crazy. I don't know, I think she had told him that she liked me and she had just broken up with him, or something, and he just decided that… I… needed to die, I guess (laughs)."
While Emil eagerly accepts that he is not the best at smoothly conserving and managing himself on tour, he does seem to find great comfort and enjoyment in the sort of chaotic spontaneity these experiences seem to afford. Much like the bands he once watched in his early twenties, Emil strives to live through something interesting, clumsy and fundamentally human on stage and on tour; an effort that inevitably makes him both a fascinating person and musician to watch.