Another album review written by my helpful intern Sebastian L'Arrivée.
CocoRosie's latest release, Tales of a GrassWidow, is somewhat different from the bands past efforts, in that there is a strong, if dark, story flowing throughout. The songs follow an overt structure and there's significantly less reliance upon shocking the audience in the way that they have on previous albums.
The album draws influence from an impressive variety of genres, from hip hop to pop and electronica. The tenth track on the album, "Villain," even seems to incorporate elements of lounge music. This diversity of genre is coupled with a variety of instrumentation to create a sound that is entirely unique.
Tales of a GrassWidow combines synthesizers, beat-boxing samples, and CocoRosie's distinctive vocal stylings with pianos, accordions and a number of traditional instruments. A few songs, such as "Broken Chariot" and "Roots of My Hair" for example, even feature a native flute and a string instrument – possibly a sitar.
It's a very interesting album that undoubtedly displays CocoRosie's growing musical ability – unfortunately, it may have been somewhat overambitious. All these different sonic elements, combined with an ethereal, ambient production style, make for the kind of record that you zone out to, rather than actively engage with.
The album only really picks up around the sixth track, "Gravedigress," at which point it becomes captivating and doesn't let up until the final track.
A big highlight of the record is the secret hidden track, "Poison." The song blends a noisy, fast beat and dissonant synth lines with bells and atmospheric vocals. The combination of the dissonant and consonant really represents the album as whole, and ties its overarching themes together perfectly.
While not perfect, Tales of a GrassWidow represents a new direction for CocoRosie – a direction that could turn out quite positively as they continue to develop this sound. It is an album worth picking up if you get the chance.
Wildlife has a new album called …On The Heart coming out on March 5th! It is probably my most anticipated album of the year so far, and this song is just a hint at why. Their debut album Strike Hard, Young Diamond was literally my main obsession in the summer of 2011, so I can not WAIT for this one.
The fact that they named this track after a Bruce song certainly reminds me of the first time I saw them play and makes me love them even more, but that the song lives up to such an epic reference is what matters most. You can't make that level of comparison in the listeners mind before they even hit play unless you know the song is gonna live up to it, and it does. The rolling drums, the layered harmonies, that guitar line, the lyrics. It's as good as a single can get. I want to sing along and play it over and over again, just as I did with "Killing For Fun." If the rest of …On The Heart is as solid as "Born To Ruin," it's gonna be just as great (if not better) than their incredible debut.
Listen below and click here to download it for free!
This weeks song comes via my favourite Hamilton boys, The Dirty Nil. Their latest is a split 7 inch with another great band (from my hometown, which makes me happy) Northern Primitive. Both songs are very, very different – but somehow they work well together. "Zombie Eyed" is exactly what we want and expect from Nil at this point – a loud, fun, catchy song to sing along to when you're having an amazing night. "Positive Bondar" is the opposite – slow, menacing, and sounds like it was recorded in a dungeon while watching someone be tortured – aka also awesome. Visceral emotions all over the place.
Best part – both songs are available for FREE via The Dirty Nil's bandcamp until the end of the month, so download it, now!
You should also watch their performance of both songs for Southern Souls – who continue to make the most beautiful music videos around:
It's been awhile since I've really dug something that came to my inbox, but when I saw that this band is on one of my favourite labels, Kill Rock Stars, I figured there was a higher chance of it being awesome than usual, and I was correct. I hit play and immediately fell in love with the synthy intro and melodic guitar line, but it's Mat Klachefsky's nasally voice and the singalong gang vocals that really do it for me. The first comparison that came to mind is Clap Your Hands Say Yeah, an old favourite of mine.
If you wanna dance, this is the song to do just that.
Oh and Boats are from Winnipeg, which makes me happy.
This song comes from their upcoming third album A Fairway Full Of Miners which is out on February 5th. A three song cassette tape will be released at some point this month in anticipation of the release.
Listen/download "Great Skulls" below: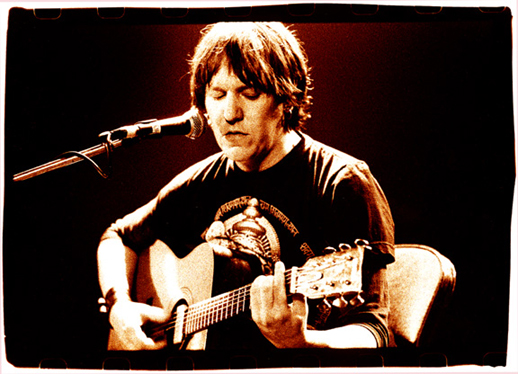 There has been so many Elliott Smith songs leaking this year, I feel spoiled. His music has had such a huge impact on my life since I first heard him in Good Will Hunting all those years ago. I have 'XO' tattooed on me because of him, I named this blog after one of his unreleased songs, and at one point I seriously considered moving to Portland thinking I would fit in better there, so that might tell you a bit about how much his work means to me if you're not already aware.
Please enjoy this download of a song of his that I've never heard before until just now, titled Misery Let Me Down (as far as we know). It is under the first track (Division Day Take 1) about 1.5 mins in, and it's beautiful. It is live and he doesn't play the whole thing (he plays it after asking for a minute to warm up) but it is just as evocative and beautiful as anything he ever wrote.
The download includes the entire WMUC recording session with a lot of stopping and starting and requests on his part. It's very endearing.